How expensive is it to live in Los Angeles?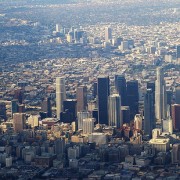 Is it soul crushing? Well… how sturdy is your soul? The cost of living in Los Angeles is 23% higher than the national average.[i] Housing, utilities, food, and entertainment cost more in Los Angeles. Taxes are among the highest in the nation, as are gasoline prices. Of course, salaries are higher as well, and the weather is tough to beat. Is it worth the price? To give you a sense of the cost of living in Los Angeles, we'll compare it to Columbus, Ohio, which is close to the national averages in most categories. Let's start with what you'll earn. In Los Angeles, you'll probably be making around $56,000 per year, the median household income. The median income in Columbus is $52,000.
Housing Costs
The median sales price for a house in Los Angeles in March of 2013 was $405,000.[ii] In Columbus, the median sales price was $85,000.[iii] The average price per foot of a house in L.A. is $340.[iv] In Columbus, it's $76.[v] One square foot of house in Los Angeles costs about four and one-half times what it costs in Columbus. Rentals are more expensive, too. Average rent in Los Angeles is $1354 per month for a one-bed and $1794 for a two-bed, compared to $703 and $849 in Columbus.[vi],[vii]
Let's say you decide to rent a one-bed apartment for a year. In Los Angeles, your current tab is $16,248 and in Columbus it's $8,436. Now it's time to pay utilities.
Utilities
Compared to Columbus, the cost of utilities in California is actually reasonable. In California, electricity costs $0.15/kW-h and in Ohio the cost is $0.11.[viii] Average consumption per person in the two states is 6,721 kW-h and 13,388 kW-h, respectively.[ix] That means your annual electric bill in L.A. is around $1020. In Columbus, it's $1473.
Natural gas in California costs $0.98/therm; in Ohio it's $1.34.[x] With an average usage of 126 therms in California and 217 therms in Ohio, that works out to annual natural gas bills of $1488 and $3492.[xi] Your natural gas bill in Columbus would be more than double the L.A. bill.
With your one-bed apartment rented and utilities paid, your annual cost is $18,756 in L.A. and $13,401 in Columbus. Comparatively speaking, the rent is so much higher in Los Angeles that the higher utilities in Columbus don't matter.
Transportation
In either town, you'll need a car, and cars need insurance and gasoline. In L.A., gas currently costs $4.03/gallon.[xii] In Columbus, it's $3.65.[xiii] The average driver in California burns about 382 gallons of gasoline in a year, for an annual cost of about $1535.[xiv] The average driver in Ohio burns about 423 gallons, for a cost of $1544.[xv]
While gas expenditures are more or less the same, insurance prices will hurt you in L.A. California has some of the highest automobile insurance costs in the nation and Ohio has some of the lowest. Insurance prices in both states vary wildly from town to town and provider to provider, but the average costs are $1,819 in California and $1,106 in Ohio.[xvi] Parking can also be brutal; in downtown L.A., you'll pay anywhere from $5 to $30 per hour.[xvii] Parking in downtown Columbus is anywhere from $2 to $10 per hour.[xviii] We'll assume for the purposes of our calculations that you have a parking space at your apartment and that your friends are willing to drive you into the city so you don't have to pay for parking.
With a one-bed apartment, utilities, gasoline, and insurance, your annual bill is $22,110 in Los Angeles and $16,051 in in Columbus.
Food and Entertainment
Now that we've covered where you're going to live and how you'll get around, let's take a look at the other things you'll need to get by. Groceries cost about 14% more in L.A. than in Columbus.[xix] Assuming you would spend about $400 per month on groceries, bars, and restaurants in Columbus (which means eating frugally), you'd spend more than $450 for the same things in Los Angeles. That's $4800 annually versus $5400 annually. Entertainment is more expensive there, too. For example, a movie ticket in Columbus costs $10.50 while a ticket in L.A. costs $14.50.[xx]
Adding groceries to our yearly bill, we reach $27,510 in L.A. and $20,851 in Columbus.
Taxes
Sales tax in California is 7.5%; in Ohio it's 5.5%.[xxi]  Local taxes bring the totals up to 9% in Los Angeles and 6.75% in Columbus.[xxii],[xxiii] The average person in the United States spends about $800 per month, or $9,600 per year, on items other than food, transportation, and housing.[xxiv] This includes clothes, household supplies, and entertainment. That expenditure yields an $860 sales tax bill in L.A. and a $650 bill in Columbus.
Sales tax is the least of your worries; income tax is the heavy hitter in this category. Assuming you make the median household income of $56,000 in L.A., you're looking at an income tax of 9.3%, or about $5,200.[xxv] Making the median income of $52,000 in Columbus, your income tax will be 4.1%, or about $2,100.[xxvi] This doesn't take into account the federal income tax, which is 25% for this bracket.[xxvii] That's another $14,000 in L.A. and $13,000 in Columbus.
Property tax in California is 1% of the cash value of your house and in 1.81% on average in Ohio.[xxviii] However, the higher tax is more than offset by the lower cost of property. Lucky for you, you're renting.
Your yearly bill now includes housing, utilities, transportation, food and entertainment, and taxes. In L.A., your total is $57,170. In Columbus, it's $46,201. You're not quite living like a pauper, but you're not living like a prince, either. You'll notice that the bill for the year in L.A. is more than the salary so you might be on the market for a second job. The beach may be beautiful, but Columbus has a lot more bang for your buck. Of course, it's hard to put a dollar value on year-round 70-degree weather
Image from flickr user kla4067 [1]
[i] http://cost-of-living.findthedata.org [2]
[ii] http://www.trulia.com/real_estate/Los_Angeles-California/ [3]
[iii] http://www.trulia.com/real_estate/Columbus-Ohio/ [4]
[iv] http://www.trulia.com/real_estate/Los_Angeles-California/ [3]
[v] http://www.trulia.com/real_estate/Columbus-Ohio/ [4]
[vi] http://www.rentjungle.com/average-rent-in-los-angeles-rent-trends/ [5]
[vii] http://www.apartmentratings.com/rate?a=MSAAvgRentalPrice&msa=1840 [6]
[viii] http://energy-models.com/tools/average-electric-and-gas-cost-state [7]
[ix] http://energyalmanac.ca.gov/electricity/us_per_capita_electricity-2010.html [8]
[x] http://energy-models.com/tools/average-electric-and-gas-cost-state [7]
[xi] http://www.eia.gov/dnav/ng/ng_cons_sum_a_EPG0_vrs_mmcf_a.htm [9]
[xii] http://gasbuddy.com/GB_Price_List.aspx [10]
[xiii] http://gasbuddy.com/GB_Price_List.aspx [10]
[xiv] https://www.fhwa.dot.gov/policyinformation/motorfuel/dec12/dec12.pdf [11]
[xv] https://www.fhwa.dot.gov/policyinformation/motorfuel/dec12/dec12.pdf [11]
[xvi] http://www.latimes.com/business/autos/la-fi-hy-california-auto-insurance-premiums-among-most-expensive-in-us-20130318,0,4427281.story [12]
[xvii] http://losangeles.bestparking.com/ [13]
[xviii] http://www.bestparking.com/columbus-parking/ [14]
[xix] http://money.cnn.com/calculator/pf/cost-of-living/ [15]
[xx] http://www.fandango.com [16]
[xxi] http://www.salestaxinstitute.com/resources/rates [17]
[xxii] http://www.sale-tax.com/LosAngelesCA [18]
[xxiii] http://www.sale-tax.com/ColumbusOH [19]
[xxiv] http://www.statisticbrain.com/what-consumers-spend-each-month/ [20]
[xxv] http://taxfoundation.org/article_ns/state-individual-income-tax-rates-2000-2013 [21]
[xxvi] http://taxfoundation.org/article_ns/state-individual-income-tax-rates-2000-2013 [21]
[xxvii] http://www.forbes.com/sites/moneybuilder/2013/01/05/updated-2013-federal-income-tax-brackets-and-marginal-rates/ [22]
[xxviii] http://www.nytimes.com/2007/04/10/business/11leonhardt-avgproptaxrates.html [23]