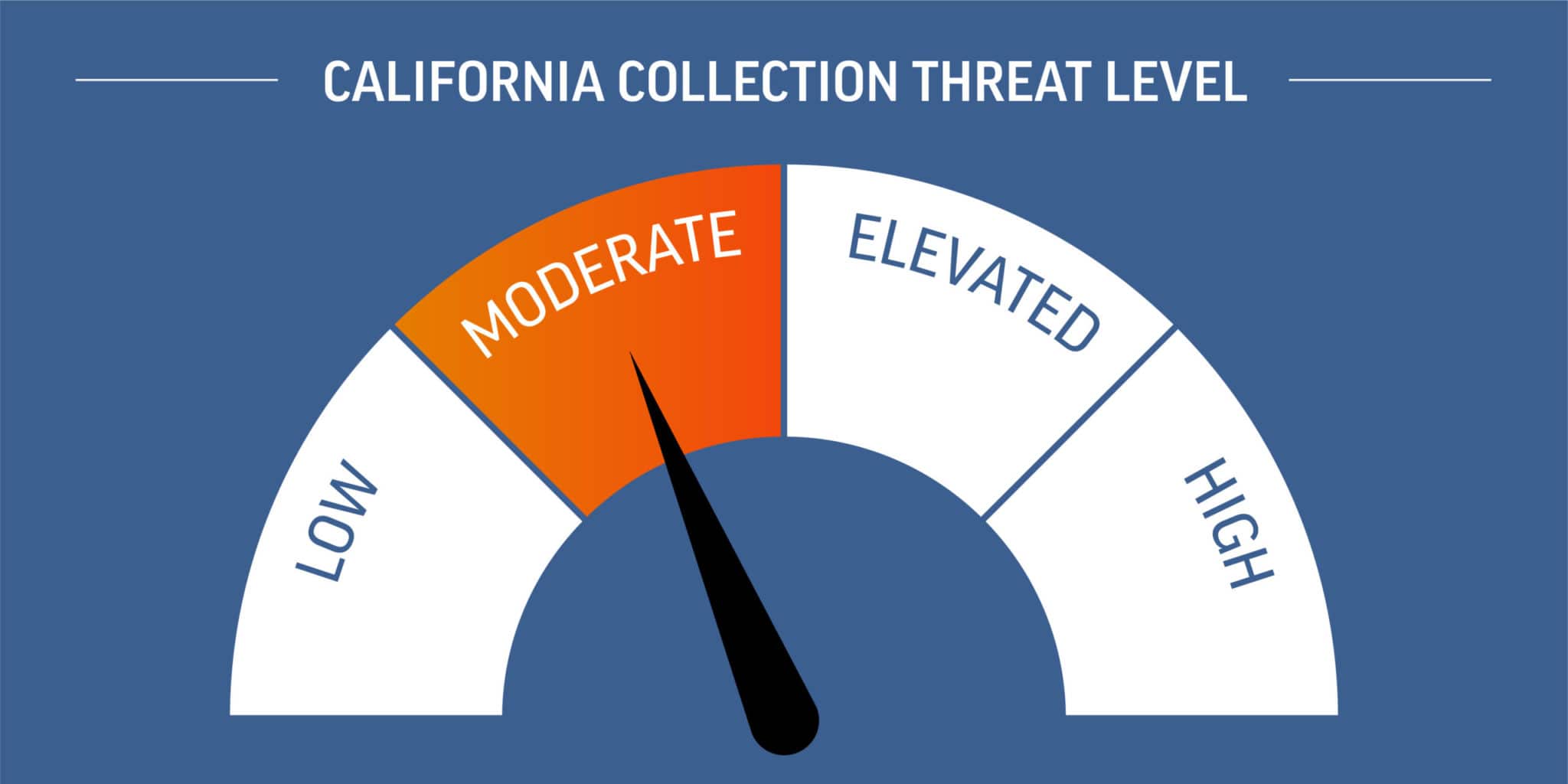 The COVID-19 Pandemic, and the economic uncertainty that came with it, has forever changed the landscape for debt collection in California. With many businesses reeling from important government-imposed safety measures designed to prevent our hospitals from becoming overwhelmed, our community of greater Los Angeles fell behind on bills and some of us went further into debt.
In response, governments at both the state and federal level intervened to curb collection efforts by placing restrictions on foreclosure, eviction, and some forms of bill collection. Many factors, including an abrupt increase in unemployment, court closures, eviction moratoriums, assistance from all levels of government, and direct stimulus payments have played a part in debt management and debt collection efforts during the pandemic. Our California Collection Threat Level Tool synthesizes and catalogs consumer legislation and executive orders in Sacramento, and in Washington, DC so California residents understand their risk of being pursued by debt collectors and landlords. Based on our analysis of collection law, we keep this tool regularly updated.
Current collections risk: MODERATE
Last updated 4/12/2021. Eviction and foreclosure moratoriums and extended protections are in place in California. As Courts reopen, we expect increased credit card collection.
3/30/2021: EXPANSION OF STUDENT LOAN RELIEF: The Department of Education extends the same protections previously in place for ED-held student loans to loans made by private lenders under the Federal Family Education Loan Program (FFEL). This protection is retroactive to March 13, 2020.
3/25/2021: REBATES AND CHILD TAX CREDITS EXCLUDED FROM THE BANKRUPTCY ESTATE: The U.S. Trustee's office issues a notice stating that the best reading of the CAA language protecting rebates from inclusion in the bankruptcy estate is that it includes all three rounds of payments, and these payments should not be included in the Chapter 7 estate or considered in determining the appropriateness of proposed payments in a Chapter 13 plans. Trustees who believe these funds should be included in the estate/considered in a Chapter 13 case are required to contact the U.S. Trustee.
3/19/2021: CALIFORNIA EXPANDS PAID SICK LEAVE REQUIREMENTS: SB 95 expands eligibiity for paid sick leave for some workers to include up to 80 hours of supplemental paid leave for employees, including those who have been advised to quarantine or are caring for COVID-impacted family members.
3/11/2021: EXCLUSION OF UNEMPLOYMENT INCOME FROM TAXATION: The American Rescue Plan excludes up to $10,200 in unemployment income from the Adjusted Gross Income (AGI) of taxpayers with household AGI of less than $150,000 for the 2020 tax year. That means a lower tax bill or larger refund for many Americans who received unemployment compensation during 2020.
3/11/2021: ENHANCED TAX CREDITS: The American Rescue Plan increases the Child Tax Credit from $2,000/child to $3,000/child and $3,600/child under six, and increases the maximum Earned Income Tax Credit for childless households from $543 to $1,502.
3/11/2021: DIRECT STIMULUS PAYMENTS: Under the American Rescue Plan, individuals earning up to $75,000/year (or married couples earning up to $150,000) and their children will receive $1,400 per person. These funds are not protected from debt collectors unless they fall under another exemption.
3/11/2021: EXTENSION OF SUPPLEMENTAL UNEMPLOYMENT: $300/week supplemental unemployment insurance payments authorized under the CAA are extended to September 6, 2021.
2/23/2021: GOLDEN STATE STIMULUS DIRECT PAYMENTS: California's Golden State Stimulus program provides $600 in stimulus funds to recipients of the CEITC who weren't eligible for federal stimulus funds, and to CalWorks, SSI and CAPI recipients and lower-income ITIN filers.
2/22/2021: SUSPENSION OF STATE TAX: The Franchise Tax Board suspends all offset of tax refunds to pay outstanding debts, with the exception of child support obligations.
1/29/2021: CA COVID-19 RENT RELIEF: Eligible tenants and landlords can apply for payment of 80% of tenants' unpaid rent for the period of April 1, 2020-March 31, 2021 if landlords agree to waive the remaining 20%. Tenants whose landlords do not agree to the waiver can apply for funding of 25% of unpaid rent.
1/29/2021: CALIFORNIA EVICTION MORATORIUM EXTENDED: The protections against eviction for non-payment of rent enacted on 8/31/2020 are extended through June 30, 2021.
12/27/2020: SUPPLEMENTAL UNEMPLOYMENT BENEFITS: The CAA renews the federally-funded $300/week in supplemental unemployment benefits, months after the supplement created by the August Presidential memorandum expire. The statute also extended benefits to self-employed workers and extended the maximum number of weeks of unemployment available.
12/27/2020: DIRECT STIMULUS PAYMENTS: Under the Consolidated Appropriations Act (CAA), individuals earning up to $75,000/year and married couples earning up to $150,000/year will receive $600 per person, plus $600 for each eligible dependent.
9/25/2020: INCREASED PROTECTION FOR CALIFORNIA CONSUMERS: A collection of bills increase consumer financial protection measures and enforcement through the creation of a stronger watchdog agency, establishment of debt collector licensing regulations and creating a Student Borrower Bill of Rights.
9/18/2020: EXPANSION OF CEITC: AB 1876 expands the California Earned Income Tax Credit to about 600,000 additional California residents.
9/9/2020: PAID SICK LEAVE FOR ALL CALIFORNIA WORKERS: AB 1867 fills gaps in prior state and federal sick leave requirements for employees exposed to or who have tested positive for Covid-19.
9/4/2020: CDC ENTERS ORDER RESTRICTING EVICTIONS: The CDC order prohibits the eviction of residential tenants for non-payment of rent, but requires the tenant to deliver a declaration of lost income due to Covid-19, and to make good faith efforts to make partial payment. The order is later extended through 1/31/21, then through 3/31/21, and most recently through 6/30/21.
9/1/2020: PROTECTION OF CALIFORNIA BANK ACCOUNTS: As of September 1, California law provides automatic protection to some funds in a consumer's bank account. The amount protected is tied to the minimum basic standard of adequate care for a family of four in Region 1, which is currently $1,788.
8/31/2020: TENANT PROTECTION LAW ENACTED: A new California law prohibits most residential evictions for non-payment of rent due to Covid-related financial hardship and provides for staged repayment after full protection expires.
8/21/2020: EXTENSION OF STUDENT LOAN RELIEF: Pursuant to an 8/8/2020 Presidential memorandum, the Secretary of the Department of Education directs FSA to extend 0% interest on student loans, suspension of payments, and a halt on student loan collections through 12/31/2020. These protections are later extended through 1/31/21 and then through at least 9/30/21.
8/8/2020: SHORT-TERM UNEMPLOYMENT ENHANCEMENT: The Lost Wages Assistance Program is created by Presidential memorandum, providing an additional $300/week in unemployment benefits for those eligible for at least $100 in unemployment benefits for the weeks ending August 1 through September 5. California's application for participation is approved August 22, with supplemental payments retroactive to the week ending August 1.
7/31/2020: SUPPLEMENTAL UNEMPLOYMENT BENEFITS EXPIRE: The supplemental $600/week in unemployment benefits funded by the federal government expire after Congress fails to reach an agreement regarding extension or partial extension.
7/24/2020: CARES ACT EVICTION MORATORIUM EXPIRES: Protections for millions of residential tenants around the country whose landlords have federally-backed mortgages or participate in one of several federal programs expire with no replacement protections.
4/28/2020: PAID SICK LEAVE REQUIREMENTS FOR LARGER BUSINESSES in LA COUNTY: A Los Angeles County urgency order extends the paid sick leave requirement created by the Families First Act to businesses with more than 500 employees operating in the county.
4/23/2020: PROTECTION OF CARES ACT STIMULUS PAYMENTS: Governor Gavin Newsom signs an executive order protecting CARES Act stimulus benefits from most creditors and debt collectors.
4/15/2020: DISASTER RELIEF FOR UNDOCUMENTED WORKERS: A public-private partnership provides $125 million in disaster relief funds to support California's undocumented residents who may not qualify for other benefits, such as unemployment insurance and CARES Act stimulus checks.
4/14/2020: EXPANSION OF COUNTY EVICTION MORATORIUM: The moratorium on evictions in unincorporated areas of Los Angeles County is extended to include all areas within the county that do not have their own restrictions or moratoria in place. The order is also expanded to include mobile home parks renting space to mobile home owners.
4/2/2020: WATER SHUT-OFF MORATORIUM: Governor Gavin Newsom signs an executive order restricting water shut-offs to homes and small businesses while the state responds to the pandemic.
3/27/2020: CARES ACT CODIFIES HUD ORDER: The CARES Act codifies the HUD order and expands it to other federally-backed mortgages. Protected property includes homes with mortgages owned, insured or guaranteed by HUD, the Department of Veterans' Affairs (VA), the Department of Agriculture, Fannie Mae or Freddie Mac. Statutory protection expires on May 17, 2020, but the relevant agencies extend the moratorium multiple times, with the latest orders extending protections through June 30, 2021.
3/27/2020: NATIONAL EVICTION MORATORIUM: The CARES Act prohibits certain landlords from charging late fees for rent due between March 27 and July 24, 2020, and from evicting tenants for non-payment of rent and other fees due during that period. However, the protection extends only to landlords with federally-backed mortgages or those who are receiving federal subsidies, receiving federal pandemic assistance, or participating in certain government programs such as Section 8.
3/27/2020: STUDENT LOAN RELIEF: The CARES Act extends the student loan relief temporarily enacted by the FSA on 3/20 through the end of September.
3/27/2020: DIRECT STIMULUS PAYMENTS: Under the CARES Act, most adults receive direct payments of $1,200 from the federal government, along with $500 for each eligible minor child. Individuals earning up to $75,000/year and married couples earning up to $150,000/year receive the full amount, with a sliding scale applied to provide partial payments to those earning up to $99,000/individual or $198,000/married couple. These benefits are not subject to collection for student loan or tax debt, but are not protected from other creditors.
3/27/2020: ENHANCED UNEMPLOYMENT COMPENSATION: The federal CARES Act provides for an additional payment of $600/week to recipients of unemployment benefits. The supplemental payment applies to benefits paid for the weeks from April 5 to July 31. The statute also provides funding to extend unemployment benefits to many who don't typically qualify, such as independent contractors.
3/25/2020: MORTGAGE RELIEF: Hundreds of banks, credit unions and servicers agreed to offer assistance to homeowners in the form of forbearances of up to 90 days, waiver or refund of mortgage-related late fees, and a 60-day moratorium on foreclosure sales and evictions.
3/20/2020: TEMPORARY STUDENT LOAN RELIEF: The Office of Federal Student Aid (FSA) temporarily suspended payments, stopped collections on defaulted loans and applied 0% interest to student debt owned by the Department of Education (ED).
3/19/2020: EVICTION MORATORIUM: California Governor Gavin Newsom issues an executive order banning the enforcement of eviction orders for renters and prohibiting new residential evictions for non-payment of rent and utility shut-offs through the end of May.
3/19/2020: LOS ANGELES COUNTY EVICTION MORATORIUM: The Chair of the Los Angeles Country Board of Supervisors issued an executive order halting all residential and commercial evictions in unincorporated areas of the county.
3/18/2020: NATIONAL FORECLOSURE MORATORIUM (AGENCY): Housing and Urban Development (HUD) announced a 60-day moratorium on foreclosure of single-family homes with FHA-insured mortgages and foreclosure-related evictions associated with these properties.
3/18/2020: PAID SICK LEAVE REQUIREMENTS: The federal Families First Act requires employers with fewer than 500 workers to provide paid sick leave to employees impacted by COVID-19 through the end of the year.
3/16/2020: LOS ANGELES COUNTY COURT CLOSURE: March 17-19 are declared court holidays, tolling deadlines and statutes of limitations. Courts re-open on March 20 for time-sensitive, essential business only.