Go See The Rams - Or Put Your Kids Through College
Last updated December 6, 2016.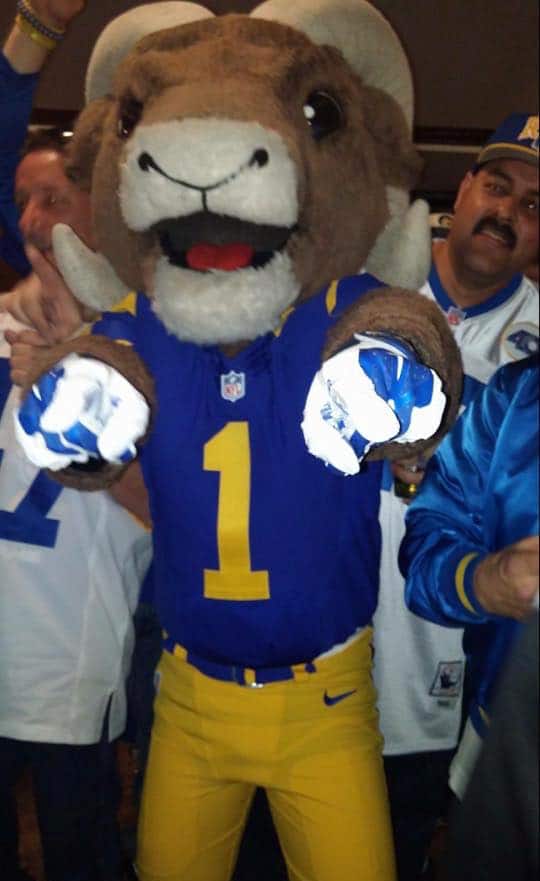 The new Rams stadium complex is going to be quite a sight, with millions of square feet of shopping, hotels, restaurants. Of course, the center of all of that is the actual stadium  – we want to see some ball! But a big new stadium complex comes with big new costs; this is the most expensive stadium in the world. And that means big price tags for the fans.
Check out what the likely price of Rams tickets at the new stadium could get you! To see the breakdown of the numbers, read on past the chart!
Single Game Tickets
The average price for a non-premium NFL ticket this year is $92.98; that figure jumps by a few dollars every season. So, conservatively, let's say an average ticket will cost $100 in 2019, when the new stadium is set to open. That's $400 off the bat. However, a new stadium is going to have higher-than-average prices as they try to recoup the costs, which means ticket prices could be as high as $120 or more – nearly $500 for a family of four.
Season Tickets
And that's just for one game – what about the season ticket holders? Today, season tickets range from $360 to $2,025 per seat, which means $1,440 to $8,100 for a family of four. Prices aren't set yet for the Coliseum, but the Rams have been sending out surveys to gauge what people are going to be willing to pay. So far, it's looking like prices are going to be significantly higher.
At the third level on the sideline, proposed prices per seat range from $1,000 to $1,500 per seat, or $4,000 to $6,000 for a family of four. And the prices look to be even wilder for nicer seats – second level club seats look to be in the $4,000 range – per seat! That's $16,000 for a family of four.
But wait – there's more. Season ticket prices at the new Inglewood stadium have an extra element: a Personal Seat License (PSL). That's a one-time fee you'll have to pay in order to buy a particular seat, and the Rams are expecting most, if not all, of their seats to require a PSL. And they're not cheap. For example, fans have paid PSLs of up to $150,000 for Cowboys season tickets – for a single seat!!!
For third level sideline seats, you're looking at a potential PSL of about $5,000 per seat – $20,000 for a family of four, in addition to the $1,000 (give or take) for each actual ticket. That gives you a total of $24,000. You do have the option to pay for the PSL in 3 interest-free installments over 3 years, which makes $8,600 a year. Add in the $4,000 for the tickets and you're at $12,600 for the first 3 years, then down to $4,000 going forward. You can also finance the PSL for 10 years at 8% interest with a 20% down payment. That's $4,000 up front with monthly payments of about $200 for the next 10 years (plus the $4,000 for tickets every year.
For second level club seats, it looks like the PSL per seat will be $50,000, in addition to the $4,000 ticket cost. For a family of four, that's $216,000. In 3 interest-free installments over 3 years, you're looking at $67,000 per year. So, with the cost of the actual tickets, you end up at $83,000 per year for 3 years, after which it will drop back down to $16,000. If you finance for 10 years at 8% with a 20% down payment, that shakes out to $40,000 up front and a monthly payment of just under $2,000 for the next ten years. And again, you'll have to add in the $16,000 per year for the tickets themselves.
Other Costs
Seeing a football game isn't just about the tickets. You'll have the costs in gas and wear and tear on your vehicle to get out to Inglewood (not to mention the time stuck in traffic!). You'll also have to deal with parking. No word yet on what the cost for a single game will be, but season ticket holders can buy season-long parking passes that range from $450 in the no-tailgate lots to $1,620 in the premium lots. Of course, single-game no-tailgate spots can run you $180 this season, so maybe that's not so bad.
In addition to getting to the game, there's food, which is notoriously expensive at professional sporting events. A beer at a Rams game this year will set you back $9, which is already a lot even if the price doesn't go up at the new stadium. And hot dogs cost more than $4 a pop. Get the kids a hot dog and a soda each, get the parents two hot dogs and a beer each, and you're talking $50 per game.
Tally It Up
So, where do we end up cost-wise? Let's make a conservative estimate. For a family of four for a single game, we're looking at: $400 for tickets, $150 for a parking spot, $50 for food, and however much gas you need to get there and back. In other words, a single game at the new Rams stadium in Inglewood is going to run you at least $600. For scale, consider that the average rent for a 2-bedroom apartment in Inglewood is about $1400. That single game is pushing half of the rent. Or consider that the average monthly payment for a new car is about $480 – less than one game!
And for season tickets? The numbers are even wilder. For third level tickets, you're looking at either $24,000 up front, $12,600 for 3 years, or $8,000 up front and $6,400 per year for 10 years. ($4,000 per year plus $200 per month). That's serious money – you could buy a car for $24,000! Or check this out – resident tuition at CSU is about $5,500. Third-level season tickets could cover 10 full years of tuition, if you finance for 10 years. Resident tuition at UC is about $12,000 – less than it would cost to pay for season tickets on the 3-year installment plan. In fact, you could even pay for most of a 4th year!
Of course, the second level club seats are even crazier. $216,000? That's half of a house in Inglewood, where the median price is about $420,000. Or $83,000 per year? The average salary in California is just $62,000. Even financed over 10 years, the first year's payment will be $56,000 and the next 9 will total $40,000 per year between the ticket price and the monthly payments. The average price of a new car is around $33,000, so you could buy a new one every year for 10 years and still have cash left over.
West Covina Office
100 North Barranca Suite 250
West Covina
,
CA
91791
United States (US)
Phone:

(626) 430-9717
Norwalk – Imperial Sq. Office Park
12631 E. Imperial Highway Suite A-104
Santa Fe Springs
,
CA
90670
United States (US)
Phone:

(562) 668-9702
Los Angeles
555 West Fifth Street 31st Floor
Los Angeles
,
CA
90013
United States (US)
Phone:

(323) 762-2208
Ontario – Ontario Exec. Center
3535 Inland Empire Blvd Suite 45
Ontario
,
CA
91764
United States (US)
Phone:

(909) 915-2712
Torrance
3868 W Carson Street, Suite 332
Torrance
,
CA
90503
United States (US)
Phone:

(310) 683-6880
Palmdale
1607 E. Palmdale Blvd Suite B
Palmdale
,
CA
93550
United States (US)
Phone:

(661) 839-1941
Glendale
100 North Brand Boulevard Suite 636
Glendale
,
CA
91203
United States (US)
Phone:

(818) 254-0116