Barry Borowitz
On
06/30/2017
Last Modified
07/25/2017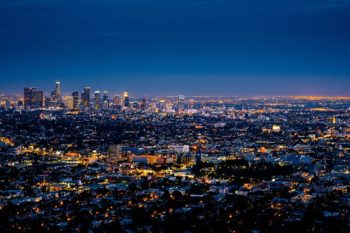 If you live in Los Angeles and you're thinking of filing for bankruptcy, you're not alone. However, you may be among a smaller group of people — mirroring national trends, because the United States Bankruptcy Court Central District of California's bankruptcy filings are slowing down. In fact, both personal and business bankruptcy filings fell to 9,415 in the first quarter of 2017, which is the lowest number filings in the first three months of a year since 2007.
So, what does it mean? Below, we'll go over some of the local statistics for bankruptcy filings, how bankruptcy affects you, and how to determine if bankruptcy is right for  you.
How many people are filing bankruptcy in Los Angeles?
Yes, the above numbers show that we're at a historic 10-year low for bankruptcy filings. But people are still struggling with debt and many are turning to the bankruptcy process for help.
The Central District of California federal bankruptcy court encompasses not just Los Angeles County, but six other counties: Riverside, San Bernardino, Orange, Ventura, San Luis Obispo and Santa Barbara.
Through the end of May 2017, the current year filings for the Central District are as follows:
11,769 new Chapter 7 filings, down 7.6% from the previous year
4,070 new Chapter 13 filings, down 4.1% from the previous year
15,996 total new bankruptcy filings (including Chapter 11 and Chapter 12), down 6.7% from the previous year
For the Los Angeles Division specifically, which includes most of Los Angeles County, new Chapter 7 bankruptcy filings are down 7.8% from the previous year to date in May 2017, at 4,750 cases opened. Nearly 2,000 Chapter 13 cases have been opened so far this year, down 6.4% from the previous year. Finally, total new bankruptcy filings in the Los Angeles Division are down 7.6%, at 6,734 Chapter 7, 11, 12, and 13 cases opened.
Taking a look 10 years back at 2007, nearly 9,400 Chapter 7 bankruptcy cases were filed that entire year in the Los Angeles Division, representing about a 60% increase from 2006 filings. At the start of the recession in 2008, bankruptcy filings went up another 72% from the year prior. Filings increased every year after 2008 until 2011, and they've been on the decline every year since.
Why are fewer people filing for bankruptcy?
Nationally, the number of bankruptcy filings in 2016 was the lowest for any calendar year since 2006. But why? As we've seen with the Los Angeles numbers, the decline has continued but it's at its slowest rate of decline in the last six years; overall bankruptcy filings in the U.S. only decreased 5.9% last year. California, however, was in a group of states that saw the largest decrease in bankruptcy filings in 2016 over the previous year.
One reason experts speculate for the decrease in bankruptcy filings is a potential decrease in medical debt. Although people don't have to declare why they're filing bankruptcy, many Americans are slammed with unbearable medical expenses. Several health care and bankruptcy experts point to the Affordable Care Act for having some part in the decrease in personal bankruptcies over the years, while others have touted general economic recovery from the recession.
"The evidence here is to the point where it feels like a pretty robust fact," said Matthew Notowidigdo, an associate professor of economics at Northwestern University who specializes in health and labor economics. "If you were to roll back the Medicaid expansion, that's going to lead to more bankruptcies."
See also: Cancer and Bankruptcy: Get Help with Medical Debt
How does bankruptcy work?
Bankruptcy works by eliminating debts. Chapter 7 is generally the preferred way of filing, if a debtor qualifies for it, because it involves no repayment of debt. Although Chapter 7 is often referred to as a "liquidation" bankruptcy, many people who file Chapter 7 bankruptcy can use exemption laws to actually keep all of their property. A bankruptcy discharge will release a debtor from personal liability for most debts, including mounting credit card or medical bills.
For those who don't qualify for Chapter 7 because they don't meet the income guidelines in California, or they have assets they do not want liquidated as part of a Chapter 7 case, they can file for Chapter 13 bankruptcy. Chapter 13 is a reorganization of debts and a repayment plan; this is often used to prevent foreclosure but there are many other benefits to Chapter 13 as well.
Another benefit of bankruptcy is that as soon as you file your case you get the protection of the automatic stay — this stops those annoying collectors and creditors from harassing you and conducting any collection activity.
See also: Do I Have Too Much Debt to File for Chapter 7 Bankruptcy?
Can bankruptcy help me?
Your best bet would be to consult with a qualified Los Angeles bankruptcy attorney before deciding to file for bankruptcy. He or she could help decide whether Chapter 7 or Chapter 13 is right for you based on your individual financial situation. While it may be tempting to try to file bankruptcy on your own, bankruptcy discharges are subject to a lot of exceptions that may require some form of legal counseling.
If you are struggling with debt, find out if Borowitz & Clark can help. We're here for you anytime at seven convenient locations. Contact us online or by phone today for a free case evaluation.
Posted By