Erik Clark
On
07/21/2016
Last Modified
09/20/2016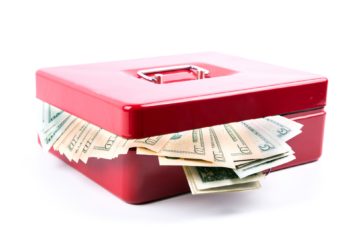 When you lease a new apartment, the landlord is taking a risk – maybe you'll trash the place or abandon it and leave them with the bill. That's why California security deposit law exists – to make sure landlords are covered and tenants have extra motivation to take care of their homes. So when you start a new lease, you'll often have to pay both the first month of rent and an additional amount for a security deposit. They'll hold on to your deposit until you move out.
Unless, of course, there is some reason for them to keep some or all of the deposit. That's allowed under certain circumstances, but landlords may be tempted to bend the rules to keep the extra cash. Rent is expensive enough, and who can afford to lose their security deposit? To protect your rights (and your security deposit), here's what you need to know.
What Can My Landlord Use My Deposit For? 
California security deposit law allows for a landlord to use security deposit funds for four specific reasons: unpaid rent, cleaning the rental unit once the tenant leaves, repairing damages beyond normal wear and tear, and replacing items like personal property, furniture, or furnishings if the agreement allows it.
Your landlord cannot use security deposit funds for conditions that were caused by normal wear and tear on the property or to repair issues that were caused before a tenant moved in.
Once you move out, your landlord is responsible for sending you invoices or receipts for any charges incurred by him or her to repair or to clean the property. He or she must either refund your deposit in full or send you the itemized bill within 21 days after you move out.
So, you could get a bill for a hole in the wall or a stain on the couch of a furnished apartment, but your landlord can't use the security deposit for normal wear and tear.
Protecting Your Security Deposit
There are a number of steps you can take to increase the chances of getting your full deposit back.
Move-In Inspection
As soon as you move in, you should take a careful look at the entire apartment or house. Document any damage – dings on the wall, leaky pipes, scratches, stains, loose molding. If there are any problems with the place, you want to know about it up front. Your landlord will probably give you a form to fill out, and you'll also want to take photos. Keep copies of both the form and the photos and make sure the landlord has a copy as well.
Take Care Of The Home
It seems obvious, but one of the best things you can do to protect your security deposit is to take good care of your home. Keep it clean and make sure to address any necessary repairs right away, before they get worse. When you're moving in or moving furniture around, be careful not to bang the walls or scrape the floors.
Initial Move-Out Inspection
When you're getting ready to move out, you have the right to ask for an initial inspection. Your landlord will walk through and identify any issues that might affect your security deposit. You're allowed to be present for the inspection, so take pictures and notes. Remember that the landlord can't do this unless you ask for it.
Before this inspection, you should have as much of your property as possible packed up so that your landlord can see the walls and floors clearly and can see that your furniture hasn't caused damage in those areas.
If your landlord spots any problems, you have the opportunity to fix them before you actually move out. Take before and after photos as evidence that you really did address the issue.
The Final Inspection
The landlord is allowed to make one final inspection of the property once the tenant has vacated. He or she can take deductions from the security deposit in order to correct conditions or repair defects that:
Occurred after the initial inspection time
Were identified in the initial inspection but not addressed by the tenant in the interim
Were not identified in the initial inspection due to the placement of the tenant's belongings at the time
Dealing With Disagreements Under California Security Deposit Law
When you move out, don't forget to take the list documenting issues that existed when you moved in and the list of issues the landlord found in the initial inspection (along with evidence of what you did to repair them). After 21 days, you should receive either a full check or a partial refund with an itemized bill for the rest. Go over that bill. Some of the expenses, like a cleaning fee, are probably not something you can fight. But if you were charged for something that wasn't your fault or that you had repaired, then what can you do?
The first step is to try to work things out directly with your landlord. Talk to them about each item on the list and how the cost is justified. Point out the things that you had already fixed or that you didn't cause. You may be able to come to an agreement for a further refund.
If that doesn't work, you may pursue other methods for getting your deposit back. For example, you can file a case in small claims court for the cost of the security deposit. The landlord bears the burden of proof for showing that the deductions were fair and reasonable. The court may decide in your favor and could award you double the cost of your security deposit in the form of a "bad faith penalty."
Know The Law, Save Your Wallet
It's expensive enough to live in LA – the last thing we need is to lose a big chunk of money to a landlord for unfair charges. Know your rights, act carefully to protect your deposit, and when in doubt, consider consulting with an attorney to make sure your rights are being honored.
Posted By