Barry Borowitz
On
08/23/2014
Last Modified
09/29/2017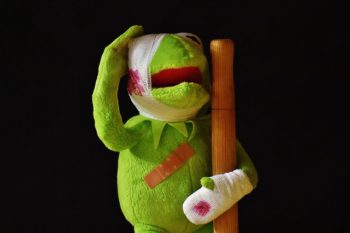 Last updated Sept. 29, 2017.
Lawsuits that arise before you file for bankruptcy can be a source of confusion and difficulty in a bankruptcy case. Lawsuits represent "claims," which means that you have a right recognized by a court to demand payment from someone else for an injury, whether that injury be a bodily injury, or an injury to your well-being, such as a claim against an employer for wrongful discharge, a claim against someone who owes you money, or any sort of claim on which you can bring suit. If you sue someone for a cash award and then file for bankruptcy, what happens to that lawsuit and potential award?
You Must List Damage Awards in Bankruptcy
When you file for bankruptcy, you must provide a comprehensive list of all your assets and debts. The claim you're making in your lawsuit counts as an asset even though it may not turn into an actual cash award. Because it's a possible source of money, you have to include it in your bankruptcy filing.
Don't even think about hiding your claim — failure to list such a claim can have serious consequences. First, if you purposefully leave such a claim off of your schedules, that counts as filing of false papers with the bankruptcy court. Put simply, that's bankruptcy fraud. Most bankruptcy trustees will directly ask debtors if they have any such claim. If you don't mention a claim that actually exists, you're committing perjury.
Even if you were to make it through the bankruptcy process without the court or trustee finding out about your lawsuit, you face dismissal of the case. A legal doctrine called "collateral estoppel" prohibits you from bringing a claim in one court if you've told another court you don't have such a claim. What you tell one court, you tell all the courts.
You will get caught — insurance companies, who typically defend and pay claims in lawsuits, check the national bankruptcy register to see if you've filed for bankruptcy after filing the original lawsuit. If you don't list the suit on your bankruptcy schedules, they can have your case for damages dismissed.
How to Keep Your Damage Award
Assuming you've properly listed the claim in the bankruptcy papers, the claim can then proceed as usual. You'll go through the whole process of a lawsuit; you may go all the way to trial or you may settle the suit first. If you win an award, how much of the cash do you get to keep?
The answer depends on the type of bankruptcy you file and the laws of your state.
Chapter 7 Bankruptcy
Bankruptcy law provides for certain exemptions to avoid leaving debtors destitute. Common exemptions include some equity in a home or car, household goods, clothing, and other items. Exemptions vary by state and many states also give you the option of using federal exemptions. California gives you a choice between two sets of exemptions that protect different sets of property. These exemptions can help protect the damages you win in your lawsuit.
In California, you may not utilize the federal bankruptcy exemptions. Anything not exempt under California law can be used to pay your creditors.
Under System 1 of Chapter 7 bankruptcy in California, your damage award for a personal injury case is generally fully exempt. West's Ann. Cal. C.C.P. § 704.14. However, a creditor who obtained a judgment against you before you filed for bankruptcy may be able to claim some of the award. Id. If your claim is for wrongful death of your spouse or and you or your spouse were dependent on the deceased, your claim is exempt up to the amount required for your support and that of your dependents. § 704.15.
Under System 2, your damage award for personal injury is exempt up to $26,800. § 703.140(b)(11)(D). An award for the wrongful death of your spouse or someone upon whom you or your spouse were dependent, the award is exempt up to the amount required for your support and that of your dependents. § 703.140(b)(11)(B). In general, any part of your award that corresponds to pain and suffering rather than remuneration of actual costs is not exempt.
Workers' compensation claims are fully exempt under state (System 1) and federal law, so you do not have to worry about losing that award.
Chapter 13 Bankruptcy
Under Chapter 13, your damages may or may not be safe. In Chapter 13, you'll work with the court to create a reasonable payment plan lasting three to five years. You won't have to surrender your assets; you'll make plan payments out of your ordinary income. Whether or not your damage award counts as part of your ordinary income will depend on the timing of the payment. If you're expecting a damage award and considering bankruptcy, speak to an experienced local bankruptcy attorney about protecting your award.
What should you do?
If you're suing for damages and contemplating bankruptcy, reach out to an experienced local bankruptcy attorney to find out how best to protect your award. The timing of your lawsuit and your bankruptcy filing can affect the amount you'll get to keep by a significant margin, depending on your circumstances. Your attorney will help you evaluate how best to deal with your debts and keep your award. Contact us today for a free debt evaluation.
Posted By