Barry Borowitz
On
09/21/2018
Last Modified
10/26/2018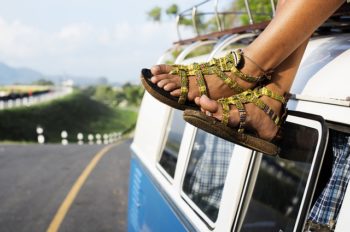 Vacations are supposed to be a time to relax, to escape the worries of everyday life and just enjoy yourself. Unfortunately, vacations also cost money—so much so that three out of every four Americans have taken on an average of $1,100 in debt to pay for a vacation, according to a survey conducted by LearnVest in 2017.
That kind of debt can make it hard for people to truly get away from it all. Every dollar spent on a debt-financed vacation is another dollar-plus-interest that has to be paid back when the sight-seeing ends.
Luckily, there's a better way to finance your next getaway: planning ahead and putting money into vacation savings. And thanks to the Internet and smartphone apps, doing so has never been easier. So, whether you're planning a holiday holiday or summer sabbatical, we've put together some tips to help you plan and build up your vacation savings without breaking the bank or going into debt.
Article at a Glance
Although you can finance a vacation with credit cards or other debt, the better approach is to plan ahead and put money away in vacation savings.
Planning a vacation and finding great deals on transportation and lodging have never been easier, thanks to the many websites and apps available today.
One of the most important steps in planning your next vacation is creating a budget—and sticking to it.
Research Destinations
Let's start with a fun first step: Try to think up some places you'd like to vacation in the near future. Don't worry about cost yet—we'll come back to that. Instead, just make a list of potential destinations. This is a brainstorming phase, so don't worry that some of the locations you pick may seem unrealistic.
(Need some help getting started? Check out our list of 7 affordable LA weekend getaways.)
Once you've got your list, it's time to start whittling your choices down to a handful you'd like to research in more detail. At this point, start thinking more about your timeline and costs. If you want to take your vacation this Christmas, or next summer, how much can you realistically save by then? Some of your options may be too expensive given the timing of your vacation, so scratch those off for now and save them until later.
Eventually, you'll narrow your list of options to the few that you are most interested in and think you can realistically afford. You may be able to delay choosing the one destination you really want to visit until it's time to book your transportation and lodging, but you shouldn't delay the next step: making a budget.
What if You Don't Care Where You Go?
You may not have a strong preference for where you want to go on vacation—that's okay! In fact, the more flexible your itinerary, the easier it will be for you to find great deals. And thanks to the Internet, it's never been easier to find those deals using websites like Groupon or Momondo.
Make a Budget—and Stick to It!
Ideally, you already have a household budget that leaves a little bit left over after groceries, utilities, car payments, retirement savings, and rent. If so, budgeting for vacation savings should simply be a matter of fitting it into your current plans.
If you don't have a household budget, now would be a perfect time to start one. Without a budget, it's easy to just spend money each month without paying attention to where it's all going. You might feel like you're living paycheck to paycheck, but by creating a budget, you could discover that you have more money to spend on luxuries (like a vacation) than you thought.
Of course, you could decide to forego making a budget and putting away money for vacation savings if you choose to put it all on a credit card. But that's not a good idea. You'll end up paying much more for your vacation if you pay for it with credit, and those payments will likely cut into your income for longer than saving up for a vacation would. The better idea, as always, is saving.
Tips for Filling Up Your Vacation Savings
Open a separate bank account. Open a new savings account specifically for your vacation. Unless an emergency comes up, leave that money alone so you'll know it's available when it's time for your trip.
Use an app. Today, there are dozens of personal finance apps and websites that make the process of budgeting easier than ever. Do some research into options such as PocketGuard, HoneyFi, or Mint to find the one that works best for you.
Review your budget. After you've lived with your budget for a month or two, you should have a better idea of where it has some "give." Take some time to go back over your budget and figure out where you might be able to reduce costs. Then, apply those savings to your vacation fund.
Work more. If you're allowed to work overtime at your job, take advantage of the opportunity if you can spare the time. You might also be able to find work online or through local side jobs. Whatever the case, save these extra earnings to help fund your vacation.
Sell your stuff. If you have stuff at home that you're not using, but that someone else might want, consider selling that stuff online or offline.
Figure Out Transportation and Lodging
As your vacation dates near, you should finalize plans for transportation and lodging. Whether you plan to reach your destination by plane, train, or automobile; and whether you intend to stay in a hotel, motel, or Airbnb, you can often save money by booking well in advance. It's at this point that you'll begin dipping into your vacation savings.
For air travel within the continental U.S., ticket prices tend to be lowest around two to three months in advance. For rental cars, the New York Times recommends booking "early—and often," although Kayak.com suggests Angelenos should wait until the last minute.
As for lodging, USA Today suggests booking at least a month in advance, but a study of Airbnb listings in London revealed that hosts typically lowered their prices starting around 15 days out.
So, you have some research ahead of you on both of these questions. Thankfully, many of the same resources that can help you book your vacation transportation and lodging can also help you determine when is the best time to do so. Those resources include:
And don't forget about local transportation wherever you're going. Will you be visiting a city with good public transportation options? Will you need to hire taxis or Ubers to get everywhere? Or will you simply drive yourself? Make sure you understand your options and make a decision before you get there.
Making the Most of Your Next Vacation
By planning ahead for your next vacation and using some of the online tools and apps that we've highlighted in this article, you can help ensure that you can spend your time away from home enjoying yourself instead of worrying about how you'll pay for it.
But if you're like many Americans, you may already be struggling with debt, making saving for your next vacation one of the last items on your to-do list. If so, contact the experienced bankruptcy lawyers of Borowitz & Clark to learn how bankruptcy can give you a financial fresh start and push that item higher up your list.
Posted By