Palmdale Office
Headquarter
Palmdale
1607 E. Palmdale Blvd Suite B
Palmdale
,
CA
93550
United States
Phone:
(661) 839-1941
| | |
| --- | --- |
| Monday | Closed |
| Tuesday | |
| Wednesday | Closed |
| Thursday | |
| Friday | Closed |
| Saturday | |
| Sunday | Closed |
Route
Bankruptcy Attorneys in Palmdale, CA
How To Get Here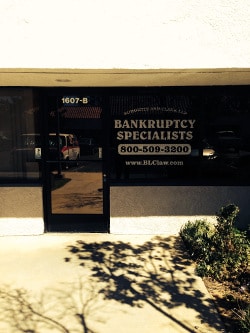 We are located in the Woodland Business Center between 16th and 17th St, next to the Antelope Valley College. Parking is free anywhere.
Highway 14 is about 5 miles away, or you can use AVTA transportation.
The Palmdale Regional Hospital and the Antelope Valley Mall are just 10 miles away. To get to the mall and take advantage of the restaurants, movie theater, and gas station, just take Highway 14 to the Avenue P exit.
Do You Want To Be Debt Free?
When debt gets out of control, many people feel like they're out of options. With the constant calls and letters, it's easy to lose hope. Bankruptcy exists to give you a fresh start – it can be the light at the end of the debt tunnel. A successful bankruptcy will get rid of your existing debt so that you can begin again with healthy finances.
There are two major types of bankruptcy for consumers: Chapter 7 and Chapter 13. When you file a bankruptcy case, the automatic stay immediately kicks in to protect you. That's one of the most important protections available to debtors – it forces all creditors to stop attempting to collect from you during your bankruptcy. That means an end to the calls, letters, lawsuits, wage garnishment, and other collection actions.
For more information about how bankruptcy can help you, check out our pages for Chapter 7 Bankruptcy and Chapter 13 bankruptcy.
over 327 million in debt already wiped out!
About Borowitz & Clark, LLP


Stressed about your debt? We're here to help. With thousands of successful Chapter 7 and Chapter 13 cases under our belts, we have the experience necessary to help you shake off the burden of your debt.
Barry Borowitz and Erik Clark have worked hard to create a firm that treats its clients like family. Your needs come first. We'll work with you every step of the way to ensure that you understand your choices so you can make the debt decisions that are right for you.
With office locations in Los Angeles, West Covina, Ontario, Palmdale, Norwalk, Torrance, and Glendale, your free consultation is just a few minutes away. Contact us online today!
West Covina Office
100 North Barranca Suite 250
West Covina
,
CA
91791
United States
Phone:
(626) 430-9717
Norwalk – Imperial Sq. Office Park
12631 E. Imperial Highway Suite A-104
Santa Fe Springs
,
CA
90670
United States
Phone:
(562) 668-9702
Los Angeles
555 West Fifth Street 31st Floor
Los Angeles
,
CA
90013
United States
Phone:
(323) 762-2208
Ontario – Ontario Exec. Center
3535 Inland Empire Blvd Suite 45
Ontario
,
CA
91764
United States
Phone:
(909) 915-2712
Torrance
3868 W Carson Street, Suite 332
Torrance
,
CA
90503
United States
Phone:
(310) 683-6880
Palmdale
1607 E. Palmdale Blvd Suite B
Palmdale
,
CA
93550
United States
Phone:
(661) 839-1941
Glendale
100 North Brand Boulevard Suite 636
Glendale
,
CA
91203
United States
Phone:
(818) 254-0116