Glendale Office
Headquarter
Glendale
100 North Brand Boulevard Suite 636
Glendale
,
CA
91203
United States
Phone:
(818) 254-0116
| | |
| --- | --- |
| Monday | Closed |
| Tuesday | |
| Wednesday | Closed |
| Thursday | Closed |
| Friday | |
| Saturday | Closed |
| Sunday | Closed |
Route
Bankruptcy Attorneys in Glendale, CA
How To Get Here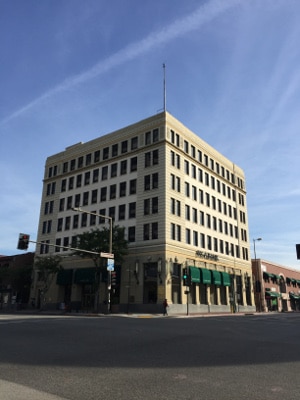 Our Glendale office is located on the northeast corner of East Broadway and Brand Boulevard.  That's just a block north of the Americana at Glendale and just a block east of the Glendale Galleria.
The entrance is on Brand and we are on the 6th floor. When you step off the elevator just let the receptionist know you are there for Borowitz & Clark and we will come to escort you back to our office.
Metered parking is available on Brand in front of the building or you can enter the municipal parking lot behind our building on North Maryland Avenue.
Do You Want To Be Debt Free?
Are you feeling hopeless about your debt situation? You're not alone. Millions of Americans struggle to keep up with the demands of creditors. Sometimes, it's just not possible and the situation only gets worse once you miss a payment or two. Now you're facing late fees and other penalties and your creditors are in constant contact looking for payment. Bankruptcy offers a way for you to get out from under a mountain of debt.
Under either a Chapter 7 or Chapter 13 bankruptcy, you can get rid of your unsecured debt – that includes credit card and medical debt. Even better, your creditors won't be able to contact you during the bankruptcy process, thanks to the legal protection of the automatic stay. You won't have to worry about any more letters, phone calls, or lawsuits.
If you're interested in learning more about bankruptcy and how it can help you with your debts, check out our information pages on Chapter 7 Bankruptcy and Chapter 13 Bankruptcy.
over 327 million in debt already wiped out!
About Borowitz & Clark, LLP


Are you ready to take your financial future into your own hands? Our expert team of attorneys and staff has managed thousands of debtors' cases and we can help you with yours. Our firm is led by two of the most experienced consumer bankruptcy lawyers in the area: Barry Borowitz and Erik Clark.
We know how hard it is to deal with the collection calls, the threats of lawsuits, and the dread of repossession. We also know how to make it all stop. We'll work with you to manage your bankruptcy case from start to finish and we'll fight for the outcome you want.
To learn more about how bankruptcy can help you, visit us in Ontario, Glendale, Torrance, Palmdale, Los Angeles, Norwalk, or West Covina. We'll evaluate your case for free and help you choose the best debt-management option for your unique circumstances and goals.
West Covina Office
100 North Barranca Suite 250
West Covina
,
CA
91791
United States
Phone:
(626) 430-9717
Norwalk – Imperial Sq. Office Park
12631 E. Imperial Highway Suite A-104
Santa Fe Springs
,
CA
90670
United States
Phone:
(562) 668-9702
Los Angeles
555 West Fifth Street 31st Floor
Los Angeles
,
CA
90013
United States
Phone:
(323) 762-2208
Ontario – Ontario Exec. Center
3535 Inland Empire Blvd Suite 45
Ontario
,
CA
91764
United States
Phone:
(909) 915-2712
Torrance
3868 W Carson Street, Suite 332
Torrance
,
CA
90503
United States
Phone:
(310) 683-6880
Palmdale
1607 E. Palmdale Blvd Suite B
Palmdale
,
CA
93550
United States
Phone:
(661) 839-1941
Glendale
100 North Brand Boulevard Suite 636
Glendale
,
CA
91203
United States
Phone:
(818) 254-0116