Erik Clark
On
04/20/2018
Last Modified
05/29/2018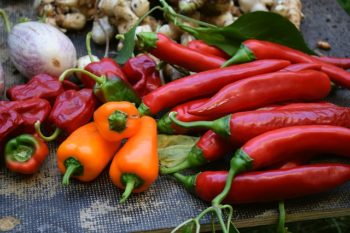 Los Angeles residents spend approximately 12% of their budget on food, a figure that many would like to reduce. While there are some affordable grocery stores in Los Angeles, eating out can be very expensive, especially if it's healthy food you seek. In fact, the average lunch bill in L.A.'s business district can run you $16 or higher. Instead of shelling out $16 on a salad at a restaurant, why not grow your own lettuce and make that salad for free?
This post explores how you can grow your own garden in Los Angeles — whether you own a home or rent an apartment. You'll also take a peek at some of the best community gardens in Los Angeles, where you can carve out your own corner of earth and get dinner started!
Growing a Backyard Garden in Los Angeles
Mother Nature has graced Los Angeles with a glorious sunny and dry climate, so take advantage of the weather and put on your gardening gloves. If you have a large backyard, then you have the perfect space to establish a vegetable garden.
Los Angeles has two basic planting seasons that take place, respectively, during the cooler and warmer months. The cooler months are ripe for planting asparagus, cabbage, fava beans, spinach, and the ever-popular kale. Root vegetables also thrive during the cooler months: think beets, carrots, parsnip, and radish. Meanwhile, the warmer months bring opportunities to plant tomatoes, eggplant, melons, corn, and herbs. In general, novice gardeners might start with cucumbers, green beans, and peppers, which are considered some of the easiest to grow.
And what will all this cost you? The investment is minimal, with many seed packets costing as little as $3 each. You'll also need to buy supplies like a tiller and spade, but the cost of these can be nominal as well if you shop at a Los Angeles bargain store. What cannot be measured in dollars is the satisfaction you'll feel at creating a living garden steps from your home.
Growing a Patio Garden in Los Angeles
Renters can have their own garden too, especially if the apartment has a balcony, deck, or patio. Additionally, renters can grow many of the same vegetables as homeowners, just in a more compact space. Large pots and hanging baskets will be necessary to start your garden in addition to the tools any gardener needs, like fertilizer. These planters can add an aesthetically pleasing air to your outdoor space while yielding a cornucopia of fresh veggies.
Again, there will be some small start-up costs associated with your garden, but the financial rewards, including close to $700 worth of home-grown produce annually, may outweigh the expenses.
Community Gardens in Los Angeles
If a backyard or patio garden is out of the question, you can still get your hands dirty at a community garden. While car-dependent Los Angeles is not known as one of the greenest cities in the USA, it is famous for its health-conscious residents. Along with an overflow of yoga studios and vegan eateries, L.A. also excels in outdoor activities thanks to a spectacular year-round climate.
This ideal climate lends itself to gardening, which is why you can choose from more than 100 community gardens in Los Angeles. Some of these gardens may cost you as little as $25 a year to rent — an amount that wouldn't even buy you two lunches in the business district!
Community gardens are cropping up all across Los Angeles, so you can choose where you channel your green thumb. Most community gardens are located in the Echo Park, Koreatown, and Elysian Park areas, but you can still find a few sprinkled throughout other parts of the city.
The Good Earth Community Garden and the Solano Canyon Community Garden are two of the larger options in Los Angeles. Furthermore, the Los Angeles Garden Council encourages residents to start new community gardens in their neighborhoods.
LA Garden Tips: Benefits Beyond Free Groceries
There's no doubt that you can save money on your grocery bill if you plant hearty but popular vegetables like squash, artichokes, and cauliflower rather than dining on the same fare at a pricey restaurant. You'll also be growing these vegetables organically without dangerous pesticides, so you control what goes into your food supply. Plus, you can enjoy the knowledge that your garden isn't just benefiting you, but the environment as well. Everything you plant contributes to a greener planet and helps clear the air of our notoriously smog-choked city.
If you're seeking other ways to save money — perhaps you're in need of a financial clean slate — we may be able to help. Contact us today for a complimentary case review.
Posted By