Erik Clark
On
01/02/2015
Last Modified
03/19/2015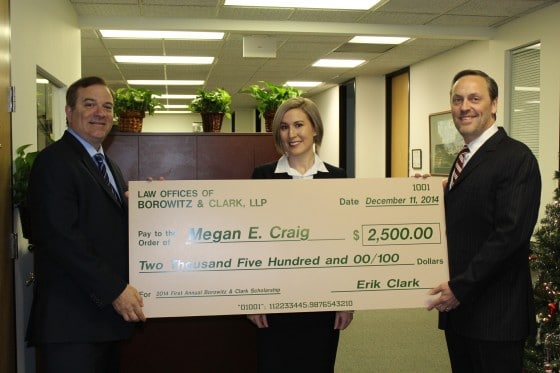 This is so exciting!  Here's how this got started …
You know that at Borowitz & Clark, we're committed to helping people get out of debt and achieve that fresh start they are looking for.  We're also passionate about and committed to education.  We believe that education is THE key to a happy, successful future.  To that end, we offered one scholarship of $2,500.00 to any law student who plans to practice in the fields of bankruptcy or consumer law.
Each applicant had to maintain at least a 3.3 GPA at an accredited law school, and be able to demonstrate an interest in bankruptcy or consumer law.
After reviewing all of the applications we're proud to announce the WINNER of this First Annual Borowitz & Clark Law School Scholarship … Megan Craig, a student at Southwestern Law School in L.A.
Megan's background, interests, GPA, accomplishments, and Application letter were appealing to us most of all because of the following statement from her:
"I just finished taking bankruptcy law with Professor Edward Wolkowitz, Chapter 7 Trustee in the Central District Bankruptcy Court and was honored to receive an 'A' in his class. Additionally, last fall I completed an externship with the Honorable Judge Vincent P. Zurzolo of the US Bankruptcy Court. After a wonderfully rewarding experience, I was invited back to extern for the Rules Committee of the Central Court. I am especially proud of my work on the Rules Committee as I have been directly involved in the pioneering of brand new local bankruptcy forms and procedures that have the potential for use on a national scale."
It's this type of involvement and ambition that results in highly astute, capable, and caring bankruptcy attorneys that help consumers in their hour of need.
We couldn't be happier with our choice.  Congratulations Megan!!!
If you are interested in applying to the Second Annual Horowitz & Clark Scholarship, please visit our homepage and read the scholarship eligibility requirements and how to apply at the bottom of the page.
Posted By