Barry Borowitz
On
08/28/2018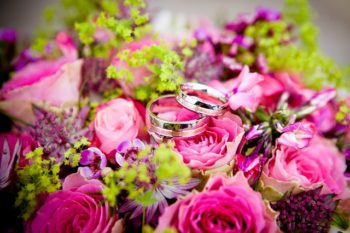 Wedding bells elicit images of elaborate flower arrangements, champagne toasts, black tie attire — and outrageous invoices. But your Los Angeles wedding can be both affordable and elegant. With the following creative venue ideas and tips on shaving down the price on other aspects of your wedding, you can plan your dream nuptials without compromising quality.
Article at a Glance
Affordable wedding venues may sound like a myth in Los Angeles, but they do exist! Check out our top five below.
A few other ways to save on your wedding include food at the reception (party at home, anyone?), plus that lavish honeymoon.
Affordable Los Angeles Wedding Venues
In 2018, new traditions are evolving, and you no longer need to feel obligated to host your wedding at a 5-diamond hotel or top Zagat-rated restaurant. Many "bohemian" wedding venues, like community gardens, are increasing in popularity and make attractive alternatives to pricier locations.
Here are 5 innovative and affordable wedding venues in Los Angeles:
California Yacht Club
A yacht club might seem like a doubtful place to save money, but this Marina Del Ray waterside hideaway is surprisingly affordable. With catering prices starting at $42 per person, you can keep your total food bill to less than $10,000 — even if you're serving 230 guests.
Center for the Arts in Eagle Rock
This historic Los Angeles building was formerly the Carnegie Library, and it will not only save you money on space rental ($3,500 for 8 hours) but also on decorations. Let the stunning architecture of this early 20th century landmark dazzle your guests for free.
Inn of the Seventh Ray
Escape the city and say "I Do" outdoors at this Topanga Canyon venue that hosts ceremonies for up to 100 guests starting at $1,450. Snap pictures on the photogenic gazebo and then sweep your guests away to an intimate reception at home.
James Irvine Japanese Garden
Conveniently located in Downtown Los Angeles, this garden features lush greenery, a footbridge, stonework, and a sparkling waterfall — all the ingredients of the perfect wedding photo. Plus, prices start at just $3,100 for both ceremony and reception.
Orcutt Ranch
If 24 acres with a rose garden and citrus orchard sound romantic to you, then this West Hills spot might be right for your big day. The price of just over $2,000 for 6 hours on a weekend make Orcutt Ranch look even prettier.
With distinct wedding venues like these, no one will miss the expensive hotel. In fact, you'll give your guests a day to remember at one of these unconventional locales.
Saving Money on Food for Your Wedding
Catering bills can run well into the five-figure range at popular restaurants and reception halls. If you're on a budget, consider trimming your guest list to a manageable 50 or fewer people and hosting the reception at home or a friend's home. You can still opt for a catering service to do the work, but forgoing the fancy venue can significantly reduce your wedding food bill.
Another DIY option is to channel the talents of your friends and family. In lieu of a wedding gift, perhaps your aspiring pastry chef best friend would bake you a wedding cake? Or maybe your bridesmaids/groomsmen would chip in to prepare a meal if you'll cover their costs to be in the wedding party?
These ideas can extend to every facet of your wedding, including flowers, party favors, and photography. Just be sure to be extra grateful — and maybe even come up with some special gifts for after the wedding for those people who stepped it up to help out on your big day.
Saving Money on Your Honeymoon in Los Angeles
Rather than booking a luxury cruise to Hawaii or boarding a plane to Paris, you can enjoy an amazing honeymoon within 300 miles of your home. The Los Angeles area boasts plentiful options for a cost-cutting honeymoon with weekend getaways for every taste. For the adventurous, there's Big Bear Lake; to savor a posh, artsy getaway, take a drive up to Santa Barbara.
You can also peruse daily deal websites like Living Social and Groupon, which frequently advertise hotel bargains at drivable destinations including Las Vegas and Sedona. If you're a member of AAA or a similar club, you'll also find that your hotel rates may be slashed by 10% or more simply because of your membership.
Finally, there's the option of holding off on a honeymoon and instead indulging in a few day trips or date nights together. It's also an option that in lieu of gifts, wedding attendees donate to a honeymoon fund.
Planning an Affordable LA Wedding
More important than the bottom line is your enjoyment of your wedding day. Splurge on what matters most to you, and cut corners in areas that don't feel as necessary. Whether you host your wedding at a yacht club or in your backyard, your special day can be both affordable and unforgettable.
Joining finances with a partner can be complicated. If you have unanswered questions about your debt or your spouse's, contact the experienced attorneys at Borowitz and Clark for a complimentary review of your case.
Posted By